Mapo Tofu

recipe

Preparation Time:

15 minutes

| Cooking Time:

15 minutes
Mapo tofu is a traditional Cantonese tofu dish made with minced pork and plenty of spices and flavourings. Serve as it is with a big salad or stir fried veggies.
Ingredients:
280g film silken tofu
150g minced pork
2 tsp. minced ginger
2 garlic cloves
1 shallot
2 tbsp. finely sliced spring onions
2 tbsp. hydrated chopped Chinese mushrooms
1 tbsp. finely chopped preserved Chinese radish
1 tbsp. chilli sauce
1 tbsp. yellow bean sauce
1/2 tbsp. rice wine
3 tbsp. water
1 tsp. salt
1 tbsp. corn flour
1 tbsp. oil
1 tbsp. soy sauce
2 tsp. caster sugar
Pinch each salt and white pepper
1 tsp. chicken stock powder
1 tsp. sesame oil
Directions:
Combine minced pork, 1 tsp. salt and 1 tbsp. corn flour. Set to one side. Combine 1 tbsp. soy sauce, 2 tsp. sugar, salt, pepper, chicken stock powder and sesame oil in a bowl and set to one side.

Mince the garlic cloves and finely slice the shallot. Dice the tofu into squares.

Heat the oil in a large wok. Add the ginger, garlic, spring onions, hydrated mushrooms and radish. Stir and then add the minced pork. Stir fry, breaking up the pork with your spoon, then add the chilli sauce, yellow bean sauce and rice wine. Keep cooking and add the water and the soy and sesame oil mixture.

Bring to the boil, then add the tofu. Simmer for 4-5 minutes until tender. Serve immediately.
Author: Laura Young.
Back to the Tofu Recipes home page.
Add a Review or Comment:
Conversions
280g
about 10 oz

(9.87644 oz based on 0.035273 ounces in a gram)

150g
about 5 oz

(5.29095 oz based on 0.035273 ounces in a gram)
Data:
Published:
April 27, 2012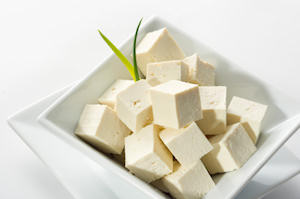 Similar Recipes:
Mocha Tofu Cakes


Tofu makes an excellent alternative to butter and eggs in cake and helps to keep cakes moist and soft. This recipe combines tof...

Deep Fried Tofu


These easy, deep friend crispy tofu bites are the perfect starter to a curry. They are easy to make and are simple to cook. Ser...

Hearty Tofu Chilli


This heaty tofu chilli has bags of feel good flavour. It's super filling, and although it requires some preparation, it is well...