Tofu Chocolate Cheesecake

recipe

Preparation Time:

10 minutes

| Cooking Time:

25 minutes
This dish is very similar to cheesecake, but it's made with silken tofu instead of cream cheese, keeping it vegan and low in fat and calories. Use whichever biscuits you like for the base - gingernuts would be particularly good.
Ingredients:
1 x 23cm biscuit base made with biscuits and melted butter or spread - use about the same amount of butter to biscuits.
450g silken tofu
50g unsweetened cocoa powder
200g caster sugar
1 tbsp. vanilla extract
1/2 tsp. cider vinegar
Directions:
Heat oven to 190C. Blend tofu in a food processor until smooth. Add the cocoa powder, caster sugar, vanilla and vinegar. Blend until smooth.

Pour the mixture onto the prepared base in the tin. Bake for 25 minutes, then chill in the tin for 1 hour. Remove from the tin and slice to serve.
Author: Laura Young.
Back to the Tofu Recipes home page.
Add a Review or Comment:
Conversions
450g
about 16 oz

(15.87285 oz based on 0.035273 ounces in a gram)

50g
about 2 oz

(1.76365 oz based on 0.035273 ounces in a gram)

200g
about 7 oz

(7.0546 oz based on 0.035273 ounces in a gram)

190°C
375°F / Gas Mark 5
Data:
Published:
April 27, 2012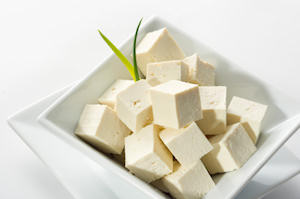 Similar Recipes:
Tofu Salad Dressing


An excellent and unusual way to serve tofu, this recipe blends tofu with oil, vinegar, basil and soy sauce to create a creamy, ...

Mocha Tofu Cakes


Tofu makes an excellent alternative to butter and eggs in cake and helps to keep cakes moist and soft. This recipe combines tof...

Tofu Kedgeree


Kedgeree is a favourite of many, many people and this version, made with tofu, keeps it vegetarian and healthy. It's still deli...